Garden Design
the Butterfly Garden
Keep the butterflies and birds coming back all summer with this beautiful, easy to install garden. It incorporates all the best flowers for attracting butterflies, small birds and hummingbirds, plus a wide range of flower and foliage color to delight us humans. Requiring only 12 x 14 feet, it's easy to prepare, and with only 9 plants, it's simple to establish. An overall winner for the beginning gardener.
Butterfly-Bird Garden Layout
Included in this garden are (back to front)
See descriptions below for more plant information.
1 – Viburnum 'Carlesii', 'Mohawk' or other smaller growing variety.
1 – Weigela 'Java Red' or other dwarf type Weigela
2 – Monarda 'Jacob Cline' or any red variety.
2 – Rudbeckia (Black Eyed Susans) Recommended variety: 'Goldsturm'
1 – Shasta Daisy. Recommended Variety:  'Becky'
1 – Penstemon. Any variety that's good for your zone.
1 – Echinacea. Common Purple Coneflower.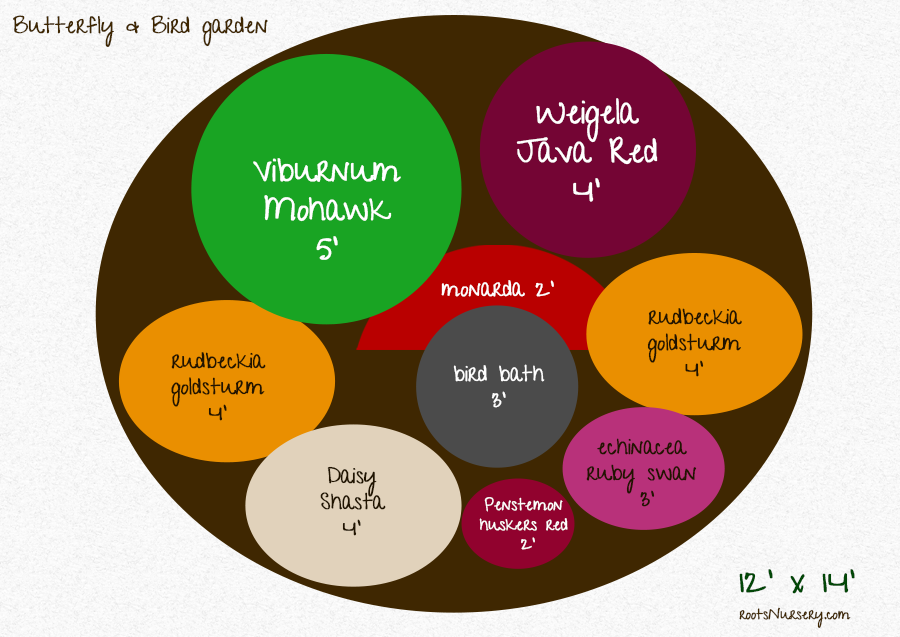 Plant Descriptions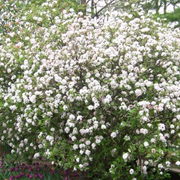 Dwarf Viburnum
Birds love feeding on the berries that viburnum provide. A dwarf Viburnum, one that grows anywhere from 5 to 8 feet will fit in this garden perfectly. Viburnum bloom for a short few weeks in early spring, product berries in the summer and end with gorgeous fall color. Zone 3-8.
Buy an awesome Starter Plant >
---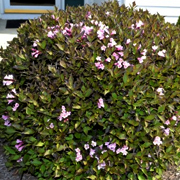 Weigela
A dwarf Weigela at 4-5 feet is the perfect compact size to fit in this garden. Beautiful trumpet shaped flowers attract butterflies. It will also attract hummingbirds… IF you're in a zone where they visit WHEN your weigla is blooming. Some Weigelas' bloom throughout the entire growing season. Zone 4-9
Buy a Good Sized Weigela Plant  >
---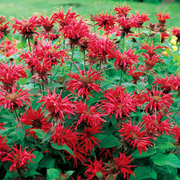 Monarda. Red shades are best.
Bring on the COLOR with bright red Bee Balm. Hummingbirds can't resist this vibrant nectar machine. Grows 24-36″ tall and will be beautiful tucked around a bird bath.
Keep spreading in check by adding a brick border around the plant to contain growth.  Zone 4-9
Buy Seeds >
---
Black Eyed Susans
Birds love Rudbeckia seeds, so leave the seedheads.(don't cut the plant back when flowers fade) You can start from seed ('Hirta' variety). These will not grow back from the plant, but they will reseed. Transplant them into one place in early spring. 'Goldsturm' is the standard long lived perennial. Blooming from midsummer to fall. Zone 3-9.
Buy Goldsturm Plants >   Buy Hirta Seeds >
---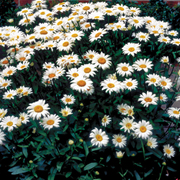 Shasta Daisy 
Drought tolerant Shasta Daisy grows quickly and blooms from June to September. It reaches 3-4′ with classic daisy pattern flowers that attract butterflies, and NOT deer. The best variety we've found is 'Becky'.  It blooms longer and doesn't flop. One of our more popular perennials. Zone 4-9
Buy a Live Plant >  Buy Seeds >
---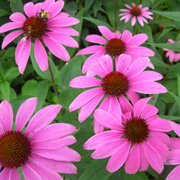 Echinacea – Purple coneflower
Attracting butterflies with large daisy-like flowers of lavender-pink. Grows 3′ and blooms from mid July through frost. A top choice at our nursery. Do not deadhead. The seed heads remain attractive through winter and the seeds provide a source of food birds.  You can start with seeds, or dig up a neighbor's volunteers. They grow quickly.  Zone 3-9.
Buy Seeds >
---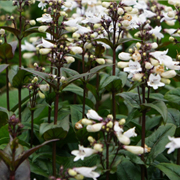 Penstemon 
1996 Perennial Plant Association, Plant of the year, Penstemon attracts butterflies to its flowers in summer, and songbirds to its seed in winter. There are many varieties and you can hardly go wrong. They're all so gorgeous.  Check your zone for the correct variety.
---
BONUS: This plant isn't incorporated in the design but it is the most attractive to Monarch butterflies that I have found.

Common Milkweed
There are many varieties of milkweed. Orange flowering tuberosa. Pink Flowering Swamp Milkweed. All do well bringing on the Monarchs, but… NONE are as attractive as the simple Common Milkweed. You don't have to get fancy to enjoy butterflies. This is about the easiest plant to grow. At 6′ put them at the back of the garden. They will reseed abundantly in good garden soil. They're pretty, the flowers smell nice, and the butterflies love my yard now. I never pull them out.
Get 3 packs of Free Seeds >