Fairy Houses. How to Build your Own!
June 4th, 2016 by Trisha

If you've been reading our blog, you probably figured out that I am totally obsessed with fairy gardens. So making fairy houses would just come naturally. They're the basis of a fairy garden. Tiny landscapes where little people live, I mean, come on. How awesome is that. I've built so many fairy houses, from wood, from concrete, from clay… I have fairy houses coming out the wazoo! All of these projects were so rewarding with very few mishaps. If you love crafts, it's pretty easy to build your own fairy houses and I'd like to show you some of mine and how I did them.
My Fairy Houses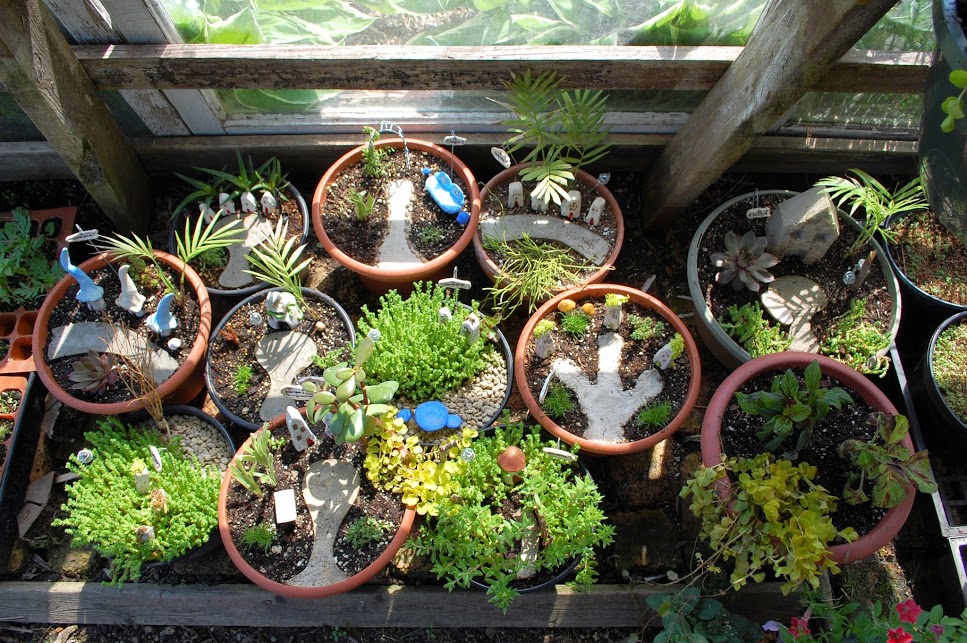 Concrete Fairy Houses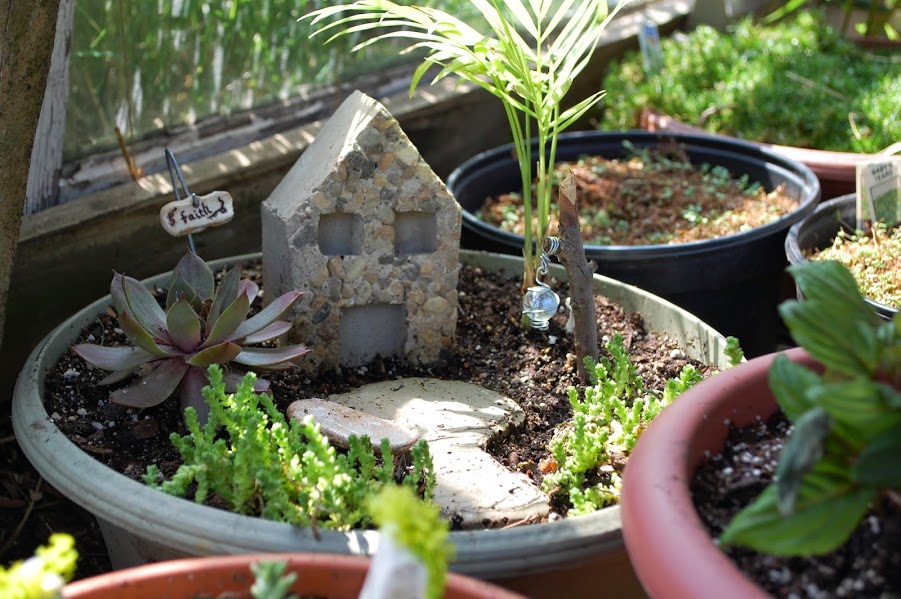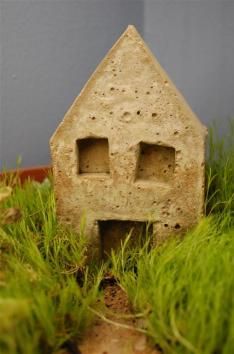 We go through project after project here at the nursery. The creative force is STRONG in us! We had already been making concrete pots, so we had a little experience and lots of concrete. When the fairy obsession hit, there was no way around trying a few concrete fairy houses. We experimented, unsuccessfully with wooden forms, but foam won first prize for making forms. It was more crafty than constructive, so that was a major plus. (hint, pull out your hot glue gun)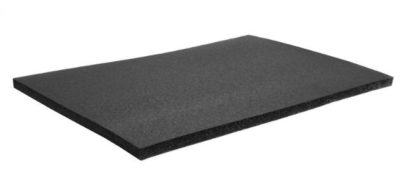 First I cut 3″ strips of black foam. Luckily we had some 6mm thick foam here for other projects. You can get foam sheets at Walmart or dollar tree. If they're too thin you might try to glue some pieces together to get the thickness and rigidity you need to keep the walls straight. Foam was important because it holds concrete nicely, and it bends without tearing so you can get your house OUT of the form after it sets.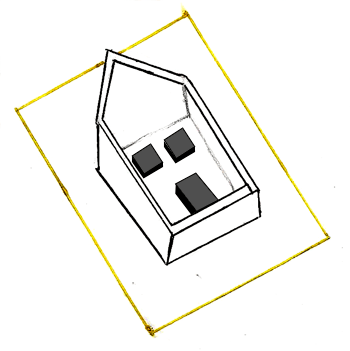 You'll be thrilled at how easy creating a concrete form turns out to be. I found an old board as a base. I grabbed my 3″ foam strips and hot glued them on their side to the shape and size that I wanted my house to be. Easy peasy. You'll have dozens of them before you know it.
For doors and windows, I cut out foam into squares and glued them to the board, inside the form. I poured some pea gravel into the bottom of my form for a stone wall look. Then, I mixed and poured the concrete into my form. Let it set up completely before taking it out. The concrete will usually pull the door and window foam out with it. Simply peel them out and stick them back in the form.
Since my foam form (say that 3 times fast) is buried somewhere in the garage, I drew a diagram of what it looks like. You can build any shape or style with foam. Because it's flexible you can let your creativity go wild! Create round hobbit houses. Design whimsically angled walls, doors and windows. When they're done you can finish them off with more crafty ideas… paint them, glue moss to them, add fake flowers, wooden roofs or doors on to them. So many possibilities.
Wooden Fairy Houses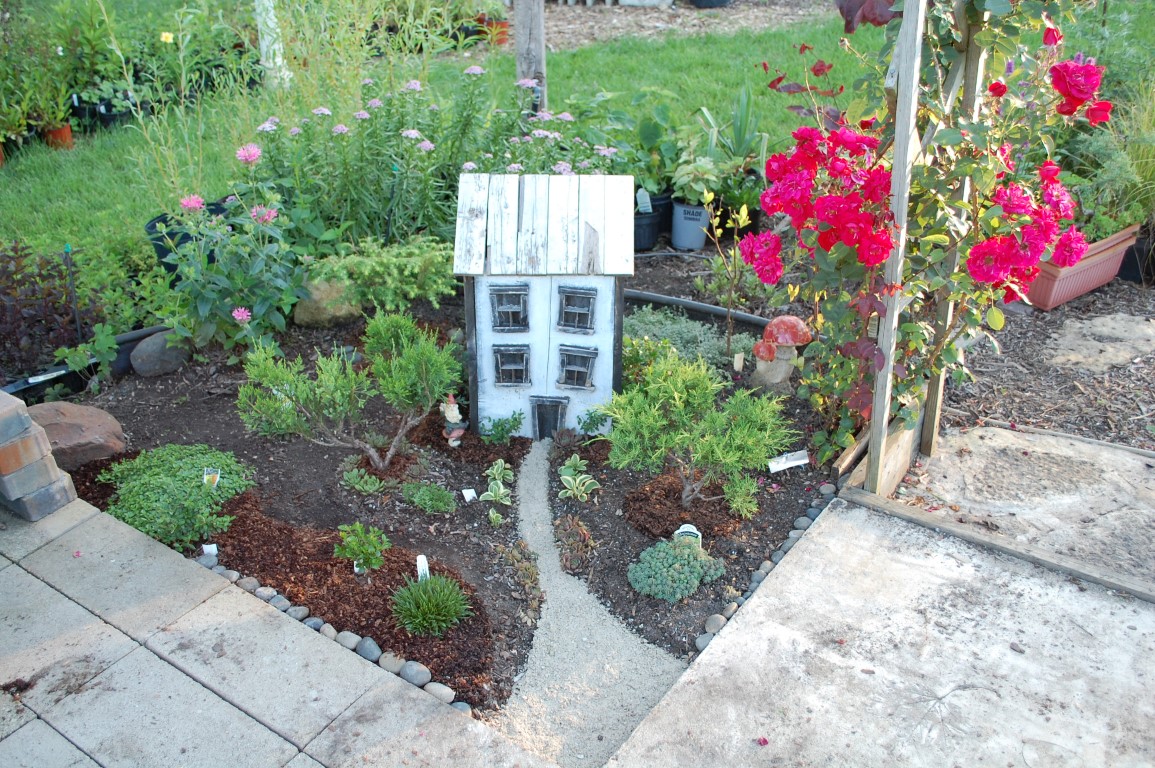 Wooden fairy houses are so strikingly beautiful, but the most time consuming. It's definitely a construction project. For my outdoor fairy garden above, I wanted something large to fill that space nicely. I had a bunch of salvaged wooden shelves from an old foot locker store. They were aged from being outside which was great, but I still did a lot to the finish.
I designed and marked the boards where I wanted Jon to cut them. I needed 2 sides with angles for a roof. A front and a back. Then, roof shingles.
To get a nicer aged look, I painted all of the boards black (except for the roof). After the black paint dried, I sloppily painted over with white. I wanted some of the black show through. The side boards were left black. The windows and doors were the most meticulous part. I cut tiny pieces of the same board with a small hand saw. (ugh, right?) I painted them black, let them dry, then sanded the edges to age them. I glued them on the front of the house with Gorilla Wood glue, which is beautifully weatherproof. The little cross sections in the windows that replicate window panes are popsicle sticks of all things!  To top it off with a roof, I scraped some paint off the shingles, and had Jon nailgun the whole thing together. It turned out to be a half day project but it was really fun, and totally worth the effort. For years, our fairy house has been outside and holding together nicely.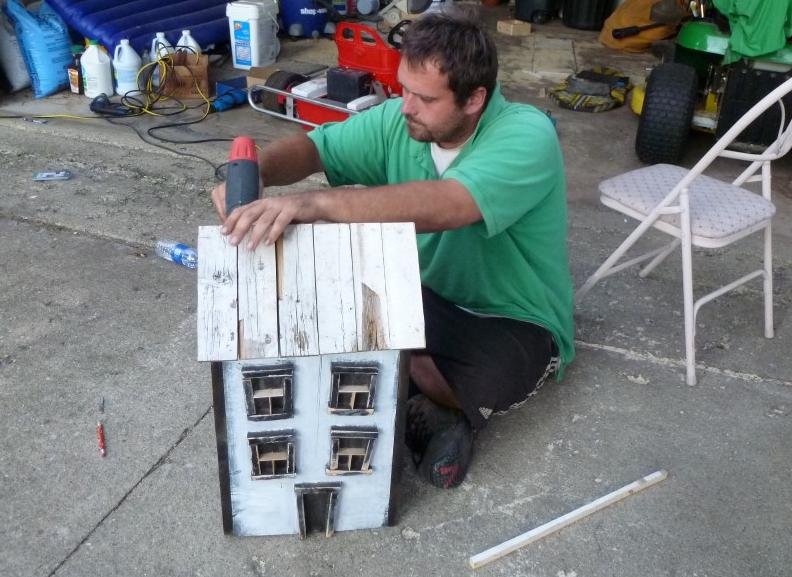 Clay Fairy Houses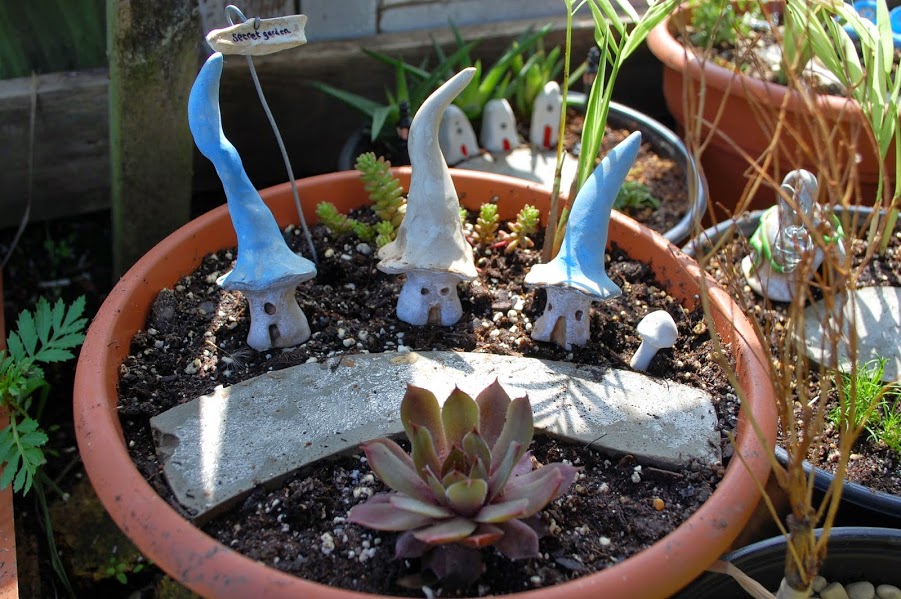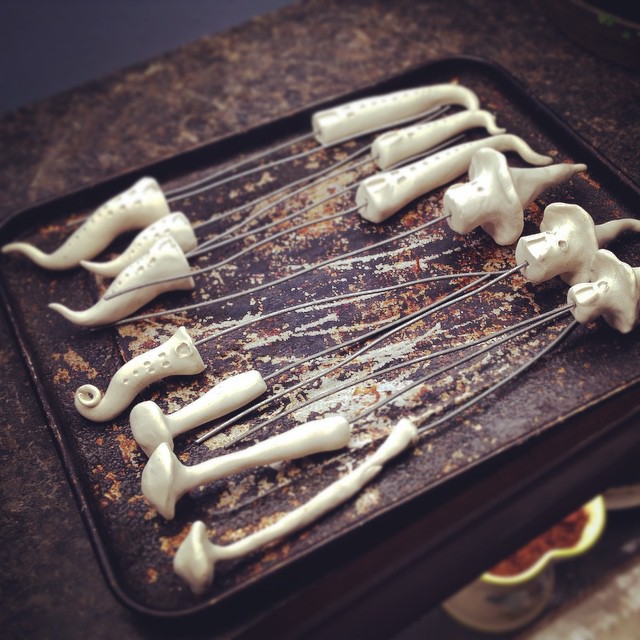 Clay fairy houses are easily my favorite because they're so tiny and quick. The quicker the project, the better! I'm all about instant gratification. Oven baked clay is easy to work with, especially if you have a toaster oven! You can get super creative with shapes, and they only take a few minutes each once you get the hang of it.
I used the original Sculpey oven bake clay. I created my little masterpieces, then carefully drove a piece of 16 gauge wire (from the hardware store) into the bottom so they would stick in the soil. I pushed the wire as far as it would go without ruining the piece. The instructions for baking is 275 for 10 to 15 minutes. It's a very quick process in a toaster oven because you don't have to preheat. You can cover your toaster oven pan with tinfoil if you don't want to be eating clay later.
Some tips. Be careful to smooth your work with your pinkie before baking. Fingerprints in the clay look pretty bad in finished pieces. Try different tools for making different style doors and windows. Pencils, exacto knives, curled wire.
After the pieces are baked, you can go nuts with acrylic paint. The paint seems to last a while. My favorite method was to water down brown acrylic paint to a watercolor consistency. Wash it on very messily with a paintbrush. Then blot sections of it off with a paper towel. It creates an awesome aged look.  Also. after the brown paint dried. I would sometimes go over it with a wash of white paint, and blot again. Paint your windows and doors. Glue on some moss, raffia, bark, whatever you have! Then start building your little fairy world.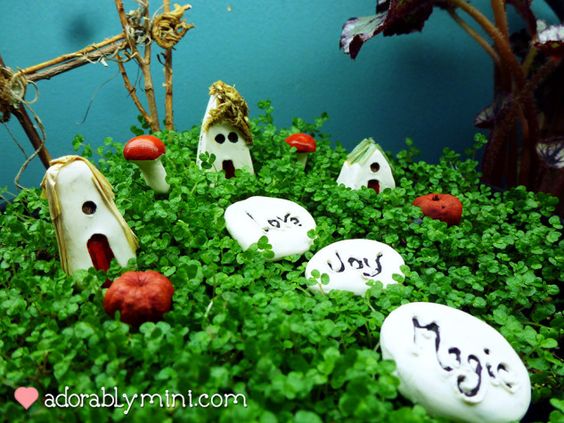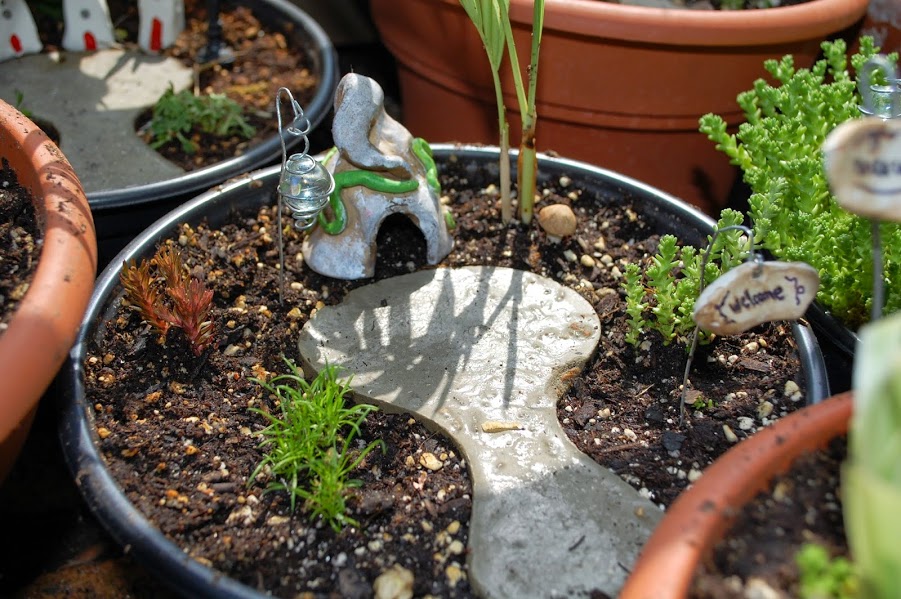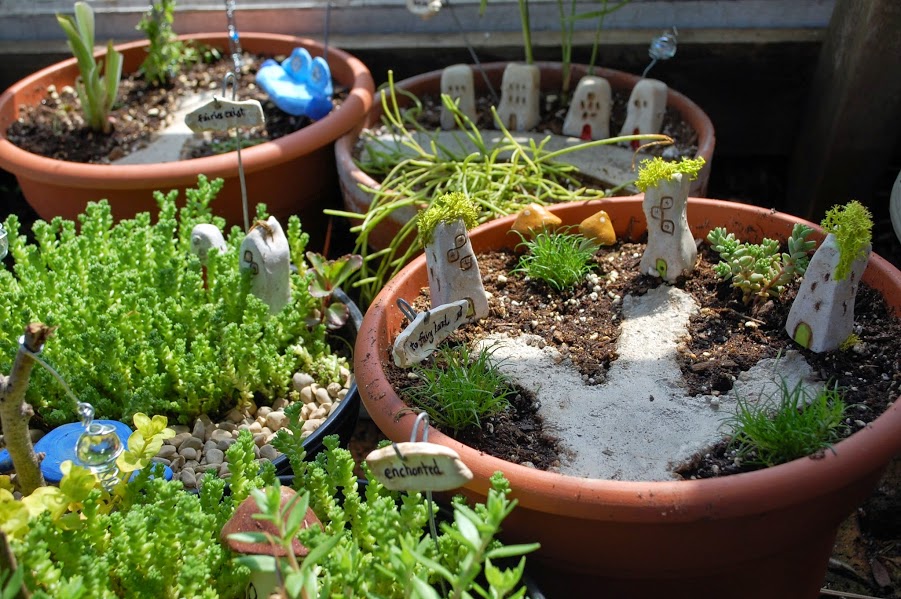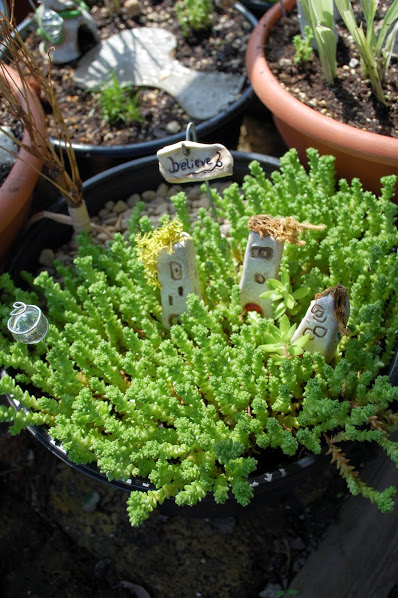 The sky's the limit and you're only bound by your creativity. I hope you try some of these fairy garden houses and share photos of your work in the comment section below! Have fun!!!