Pallet gardens are all the rage. From veggies and herbs to annuals to succulents, a pallet garden is clever and beautiful! They are wonderfully space saving so you can surround yourself with a ridiculous amount of plants and flowers. Personally, that's my goal every year. Here are 10 pallet garden ideas for you to create!
Succulent Pallet Garden Ideas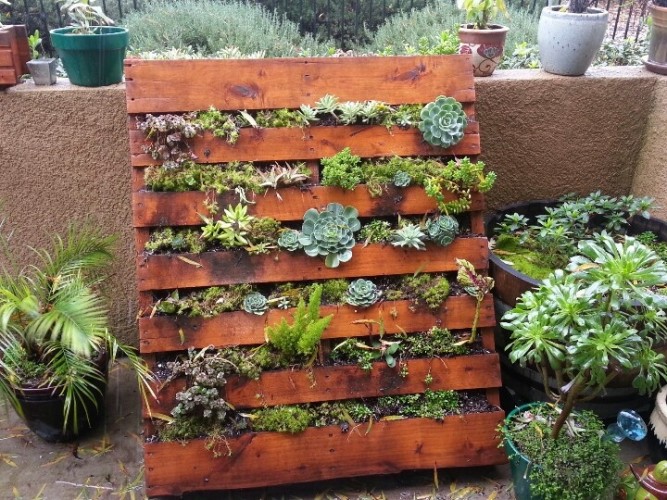 This gorgeous pallet garden is filled with drought tolerant, easy to care for plants that look amazing all year, no matter what you put them through. The stained finish just puts it over the top. I could stare at this gorgeous thing all day. (found on pinterest, source unknown)
I'm a sucker for succulents. I use them anywhere, anytime for any reason. They live indoors through the winter. They overwinter outdoors in pots. They go especially well in fairy gardens. If I'm at a nursery or tradeshow and there are succulents, you won't gonna stop me from buying 5.
Mainly because succulents pass the brown thumb test.
Yes, I run a nursery, but I'm terrible at growing plants indoors. I started with LOTS of houseplants. If it died, I never bought it again. This approach whittled down my winter lovelies to something manageable. Ficus. Geranium. Begonia. And lots and lots of succulents.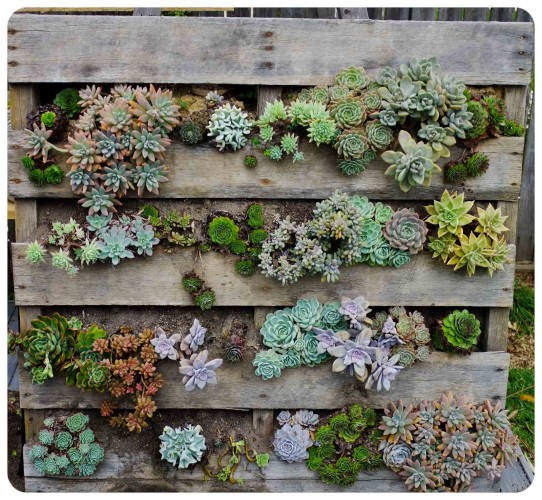 Here's another gorgeous succulent pallet garden from The Urchin Collective
If you're wondering how to keep the dirt from falling out, this one has simple written instructions and lots of photos of different angles of the succulent eye candy.
Herb Pallet Garden Ideas
The greatest things about herbs, besides making your food yummy, is that they don't need a ton of space to grow. Of course they'd rather be in the ground. I mean, what plant doesn't? Fortunately herbs can endure some crowding.
The smallest sized pot recommended for growing herbs is 6″. That's pretty small.
These pallet herb gardens aren't even utilizing all the space for soil. They've only added bottoms to each 'shelf' to hold everything in. All they need now is some rich organic potting soil and some sunlight. (afternoon shade preferred)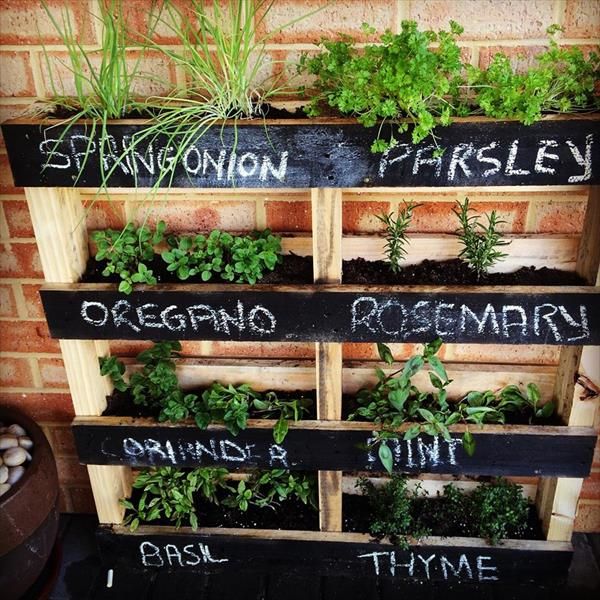 This beautiful herb garden created by 99 Pallets is beautiful and creatively clever! Using chalkboard paint adds such a nice touch. I use this paint to label SO many things. Craft boxes, jars and so much more. Using chalk to label your plants is so fun. Change your herbs and labels as much as you want! The chalk will probably wash off with every rain if not protected, but it's so cute, I think it's worth rewriting!
Another gorgeous herb garden, built by Zina's husband (slave). The labels on this one wont wash off in the rain. And it's just breathtaking. I mean, what craft cant you pull off with beautiful penmanship 😀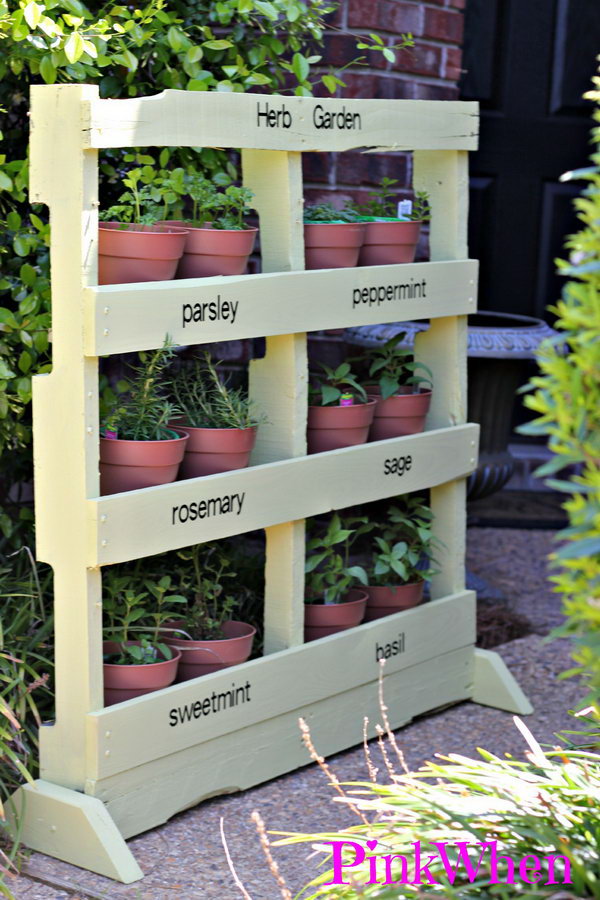 If you're worried about chemical leaching, or the idea of filling the whole pallet with soil turns you off, here's a clever little twist! Just use the pallet as shelves for your pots to organize your herb garden! This idea was featured by Jen from PinkWhen.
(More about chemically treated pallets below).
On the other end of the spectrum, if you're very handy, you can create this beautiful standing herb planter, shown here by BonniePlants. This particular planter was not created with a pallet, but if you're short on wood, you can pull one apart and put it back together like so. If you're not handy but love this design, you can buy one like it.
VIDEO:
Here's a super quick tutorial on how to build a vertical pallet garden for herbs. Make sure to pack and water your plants in WELL before standing it up.

Vegetable Pallet Garden Ideas
Everyone loves a vegetable garden. But most people think you need a huge garden to grow them.
Not the case.
I'm actually pretty surprised at how little space can grow so much produce. I've seen this in square foot gardening.
I've also seen volunteer tomato seeds sprout in the most unimaginable places. The corner of a wood chip pile on a driveway? And it grew like crazy. Who knew?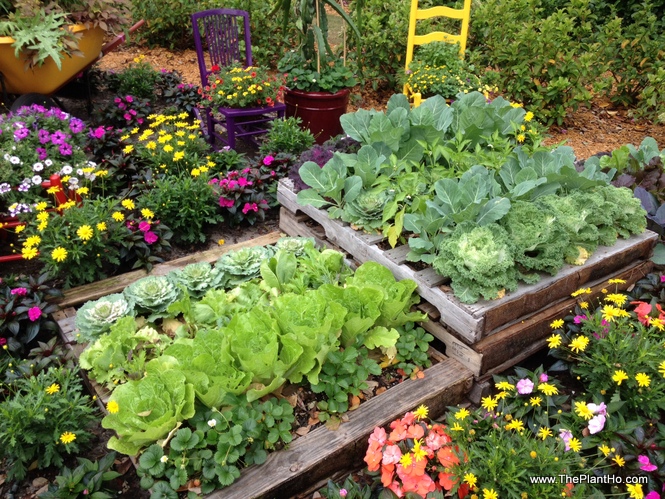 You can create some breathtaking vegetable gardens with pallets. Take a look at this beauty featured at Epcot's Flower and Garden Festival. I absolutely love the use of multiple pallets to create height and I'm amazed at how well those babies are growing.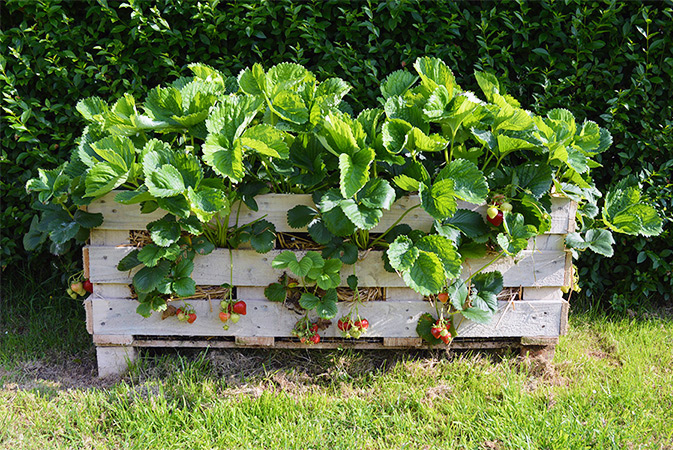 Just LOOK at this gorgeous strawberry pallet planter by LovelyGreens Who wouldn't LOVE to look at that every day, and have yummy strawberries to boot! Berry Smoothies anyone? I'm down for that. You can view the instructions on Tanya's website.
if youre worried about treated wood, or leeching chemicals, heres some advice:
Most wood pallets will have an IPPC logo, since they oversee internationally-shipped pallets. Pallets that ship overseas are the ones usually treated or fumigated to prevent the spread of invasive pests. Here are the marks to look out for (they should be near the IPPC logo):

HT – This means the pallet was heat treated, possibly with harmful chemicals.
MB – This indicates that the pallet was fumigated with methyl bromide, a toxic pesticide. Pallet makers are phasing out methyl bromide, but you may still see this mark on some older pallets.

You can also educate yourself to recognize what pressure treated wood looks like. Head to your local home improvement store and poke around the lumber section. Pressure treated wood looks different from untreated wood, and once you see the difference in color, it should be pretty easy to spot.
Flower Pallet Garden Ideas
Flowers are the prize of everyone's garden. And anyone can grow them.
Annual flowers, again, don't need immense root systems to grow well. Just good potting soil, sunshine and keep an eye on the water.
Have you ever seen how many wax begonias they shove in one hanging pot at the nursery? And they do well all summer. Have you ever uprooted a large annual geranium and taken a look at the size of the root system? Its pretty minimal for the size of the plant.
A petunia seed fell in the crack of my block patio to the soil below. The blocks are 6″ deep! The next year, I had a plant a foot tall and a foot wide growing through that crack.
Some plants just want to survive and work hard to do so. To quote Jurassic Park 'life finds a way'. There's absolutely no reason you shouldn't do wonderfully growing a flower pallet garden. As with any garden, start with great soil.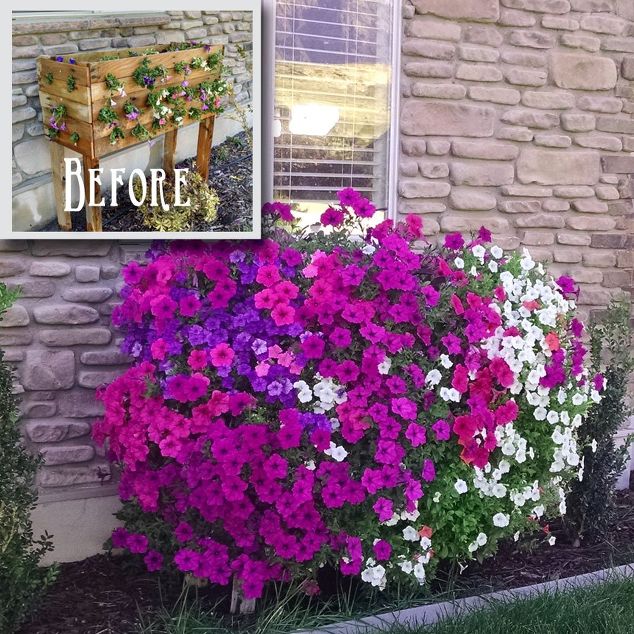 Holy Petunias, Amy!!! This unbelievable planter box was built from pallets by Amy over at HerToolBelt. I am SO impressed with how well they grew! Amy has instructions on her blog, how to build the box and keep the plants moist so they actually grow this well. I would follow them exactly 😀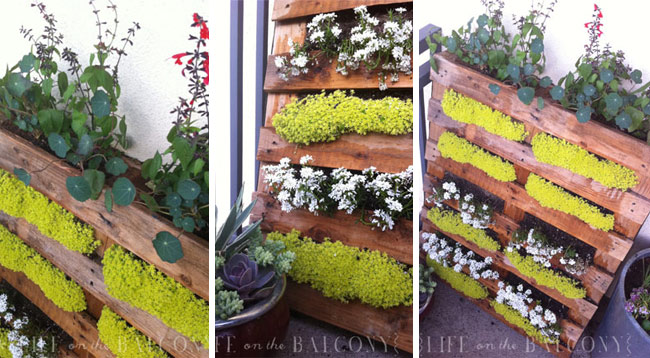 For all you apartment dwelling flower lovers, there's hope! Vertical gardens are awesome for apartments. Space saving, full of plants and just lovely. My all time favorite vertical pallet garden was created by Fern over at Life On The Balcony (sadly her site is gone) Her use of color in this stunning little garden is fabulous. She really has an eye.
VIDEO:
Here are full instructions on how annual vertical pallet gardens are constructed at the nursery.

One last video. If you LOVE vertical gardening, this man is brilliant at it.

Alex from Flower Street Urban Gardens has devised a wonderful gardening system that you install right on walls, fences, windowsills, your balcony. If you have a sturdy structure to hold a wire frame this space saver can grow some plants! It's perfect for individuals that would rather not bend to work a garden.
Last but not least, have FUN with your plants. They provide endless possibilities to get creative and surround yourself with beauty. This post inspire a pallet design of your own? I would love to see photos!