10 Beautiful Pallet Garden Ideas
February 4th, 2016 by Trisha

Pallet gardens are all the rage. From veggies and herbs, to annuals to succulents, a pallet garden is clever and beautiful! Here are 10 pallet garden ideas for you to create!
Succulent Pallet Garden Ideas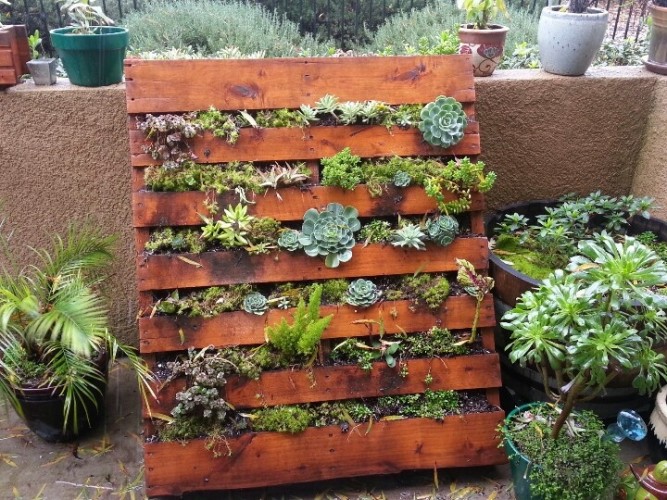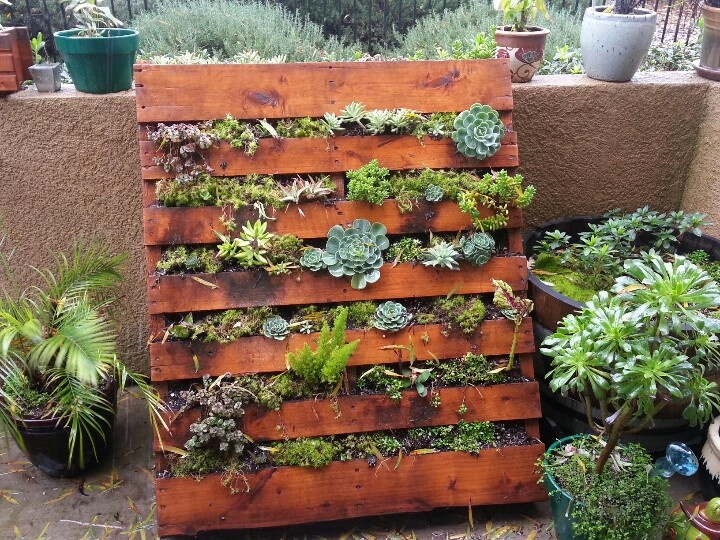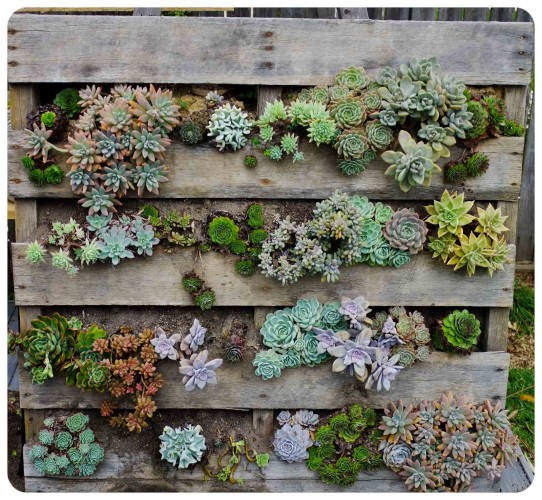 I'm a sucker for succulents, especially vertical succulents. This gorgeous pallet garden is filled with drought tolerant, easy to care for plants and looks amazing. The stained finish just puts it over the top. I could stare at this gorgeous thing all day. (found on pinterest, source unknown)
Another gorgeous succulent pallet garden from The Urchin Collective
If you're wondering how to keep the dirt from falling out, this one has instructions!
Herb Pallet Garden Ideas
This beautiful herb garden created by 99 Pallets is beautiful and creatively clever! Use chalk paint and chalk to label your garden. Change your herbs and labels as much as you want!  The chalk might wash off with every rain, but its so cute, I think its worth rewriting!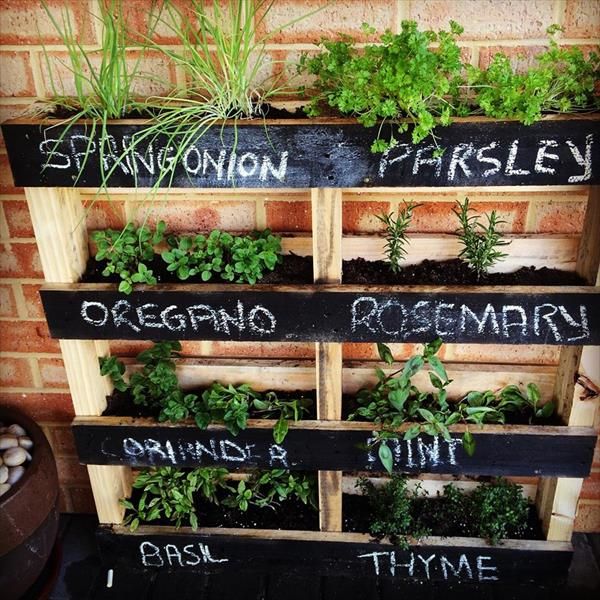 Another gorgeous herb garden, built by Zina's husband (slave). The labels on this one wont wash off in the rain. And it's just breathtaking. I mean, what craft cant you pull off with beautiful penmanship 😀
If you're worried about chemical leaching, or the idea of filling the whole pallet with soil turns you off, heres a clever little twist! Just use the pallet as shelves for your pots to organize your herb garden! This idea was featured by Jen from PinkWhen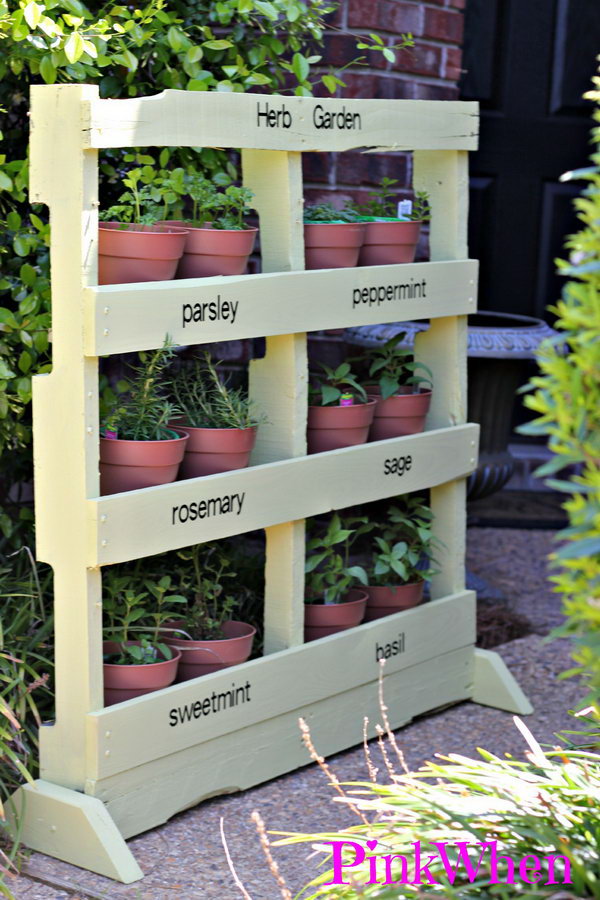 On the other end of the spectrum, if you're very handy, you can create this beautiful standing herb planter, shown here by BonniePlants. This particular planter was not created with a pallet, but if you're short on wood, you can pull one apart and put it back together like so.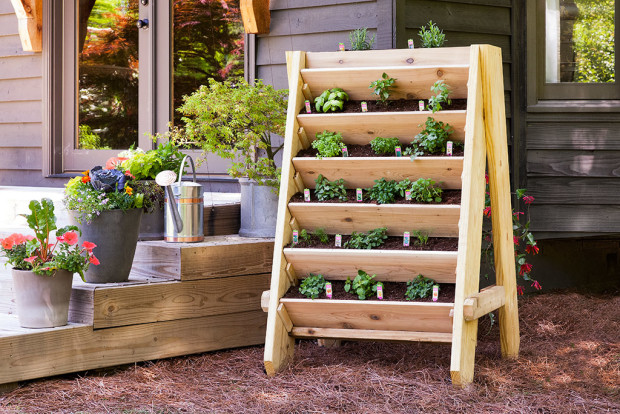 Vegetable Pallet Garden Ideas
You can create some breathtaking vegetable gardens with pallets. Take a look at this beauty featured at Epcot's Flower and Garden Festival. I absolutely love the use of multiple pallets to create height and Im amazed at how well those babies are growing.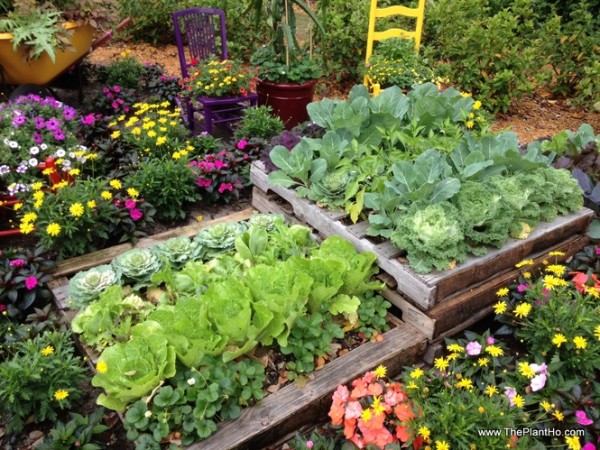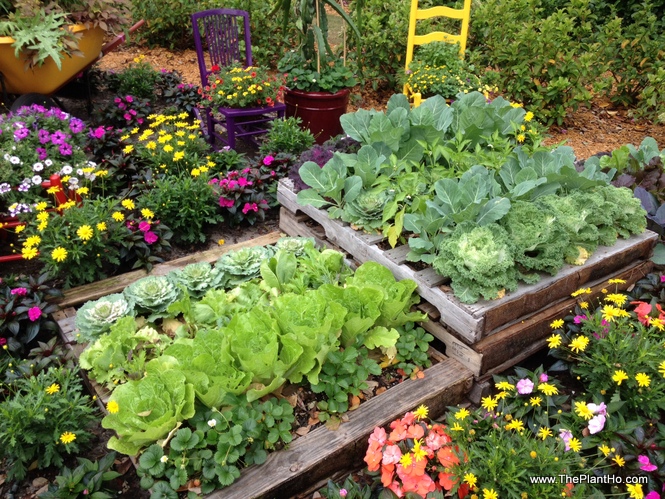 Just LOOK at this gorgeous strawberry pallet planter by LovelyGreens Who wouldn't LOVE to look at that every day, and have yummy strawberries to boot! Instructions on her website.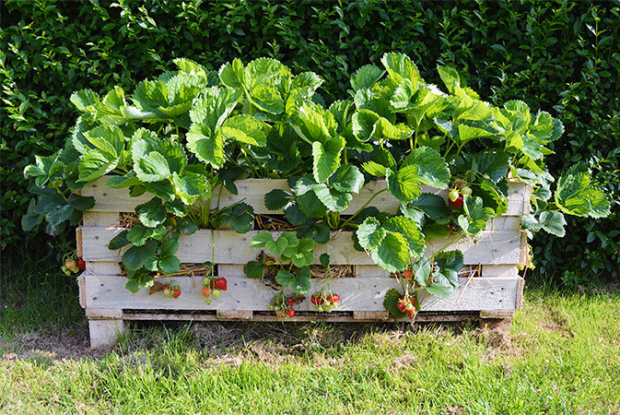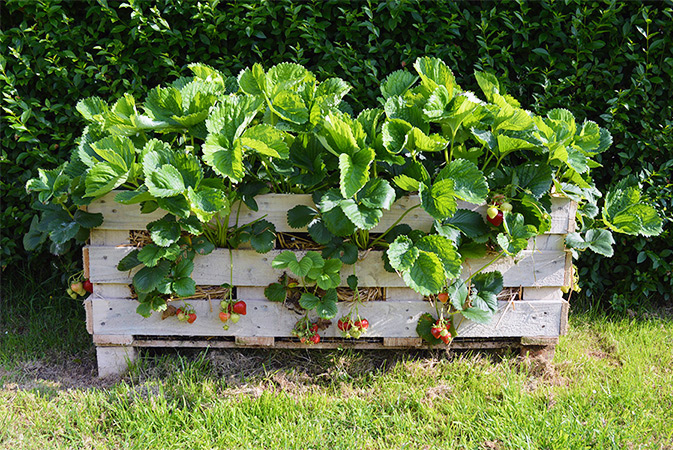 if youre worried about treated wood, or leeching chemicals, Becky over at Green Upgrader has some advice:
Most wood  pallets will have an IPPC logo, since they oversee internationally-shipped pallets. Pallets that ship overseas are the ones usually treated or fumigated to prevent the spread of invasive pests. Here are the marks to look out for (they should be near the IPPC logo):

HT – This means the pallet was heat treated, possibly with harmful chemicals.
MB – This indicates that the pallet was fumigated with methyl bromide, a toxic pesticide. Pallet makers are phasing out methyl bromide, but you may still see this mark on some older pallets.

You can also educate yourself to spot pressure treated wood. Head to your local home improvement store and poke around the lumber section. Pressure treated wood looks different from untreated wood, and once you see the difference in color, it should be pretty easy to spot.
Flower Pallet Garden Ideas
Holy Petunias, Amy!!! This unbelievable planter box was built from pallets by Amy over at HerToolBelt. I am SO impressed with how well they grew! Amy has instructions on her blog, how to build the box and keep the plants moist so they actually grow this well. I would follow them exactly 😀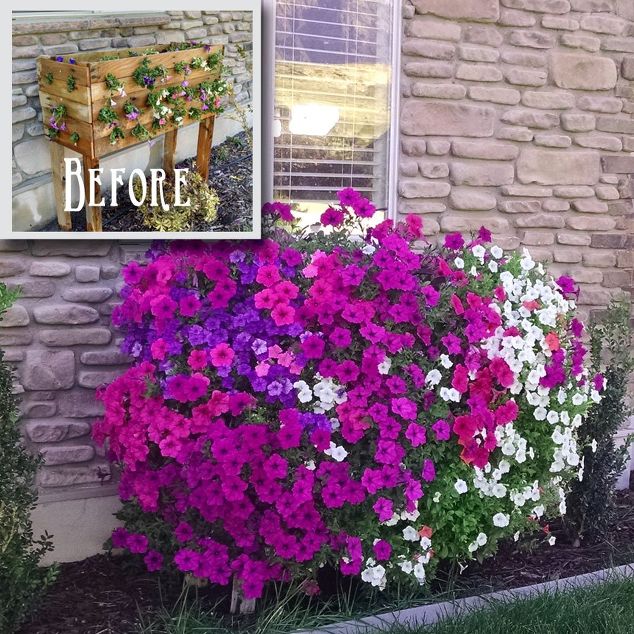 and for all you apartment dwelling flower lovers, there's hope!a My all time favorite vertical pallet garden was created by Fern over at Life On The Balcony  Her use of color in this stunning little garden is fabulous. She really has an eye.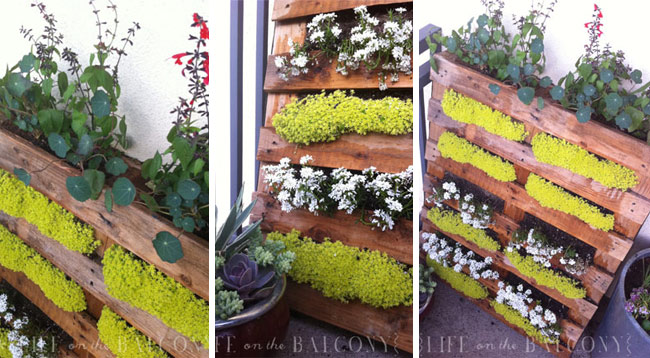 Got a thang for pallets and want to earn a little extra money?  With pallets??? no way…
This little e-book will show you how! Where to find pallets. Why people will pay you
for pallets. Where to find people to buy your pallets. Read the testimonials!